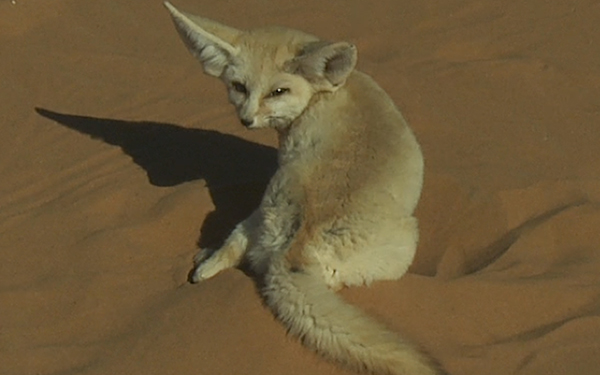 "Goodbye," said the fox. "And now here is my secret, a very simple secret: It is only with the heart that one can see rightly; what is essential is invisible to the eye."
A film about some inspired translators of The Little Prince by Antoine de St Exupery, after the bible the most translated book in the world. They are all fighting for the preservation of their threatened languages and cultures.
Writer Lahbib Fouad and his friend the poet Omar Taous live between the sand and the stars in the desert, where they just like the little prince love to talk with animals. For over 30 years they fight for the Tamazight, a Berber language, officially the second language of Morocco, which is hardly written or read. In the snowy hills of Samiland we meet writer Kerttu Vuolab, who as a girl was severely bullied at school for her language and culture.  After the tragical drowning of her younger sister, it was The Little Prince, which offered her solace for her loneliness.  As a student she translated the book in the Sami language. Professor Jorge Lemus devotes himself to a translation in the Nahuat or Pipil language, a native Aztek language in El Salvador, only spoken by some 300 elderly people, after the Pipil Indians were massacred on a huge scale in 1932. Three elderly native ladies assist him in this time-consuming task. Tashi Kyi and Noyontsang Lamokyab, living in exile in Paris, translated  the book 2 years ago, into Tibetan, a language heavily oppressed by the Chinese.  
The words of The Little Prince, full of solace and hope, find their echo in the fight of the translators and their friends. No matter how diverse their cultures are, they all show us how essential it is for human beings to be able to think, speak and dream in their own language.
Teaser:
https://www.youtube.com/watch?v=H2wXxzRoi-E
Year:                                       2018
Director:                                Marjoleine Boonstra
Script:                                     Marjoleine Boonstra, Lies Janssen, Pieter van Huystee
Research, line producer:     Lies Janssen
Camera:                                 Marjoleine Boonstra
Camera-assistant:                Stef van Wijk
Sound:                                   Kees de Groot
Editor:                                    Menno Boerema
Soundscape:                        Marc Lizier
Music:                                    Harry de Wit, Mari Boine, Svein Schultz
Executive producer:           Marty de Jong         
Producer:                              PvH Film, IndieFilm.
Omroep:                               NTR, Oscar van de Kroon
Kerttu Vuolab
Photos: Marjoleine Boonstra